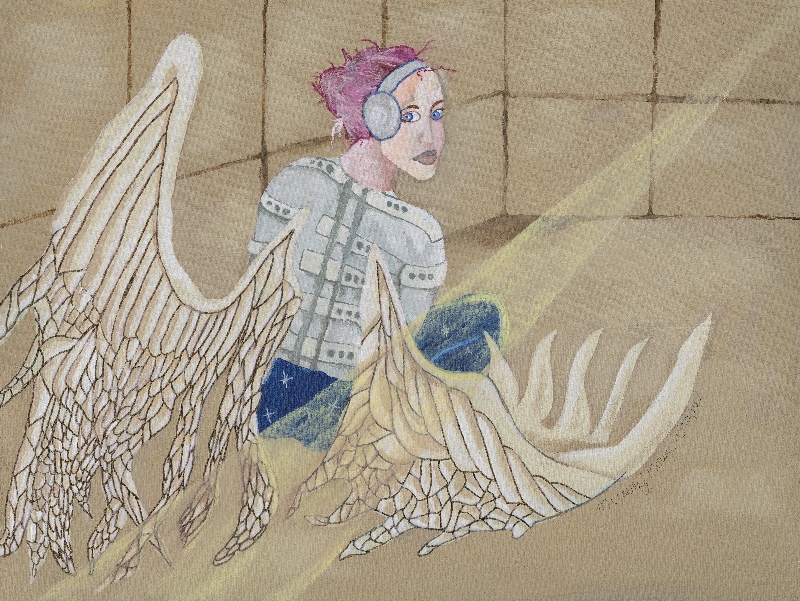 Colors of Reality
ARTIST: Michelle Morine-Chapa
The wings represent how the ADA has liberated people with disabilities.
The ray of light stands for hope for the future.
I chose a padded room because so many people with disabilities are isolated.
Listening to music through headphones can be therapeutic.
Artist Statement
I have enjoyed creating art since childhood, my first endeavors into the world of art were with a pencil and sketchbook, I was drawing all of the time filling sketchbook after sketchbook with mythical flights of fancy, celebrity portraits and portraits of my friends and family. I primarily utilized my pencil, but would dabble from time to time with chalks and colors.
It wasn't until my later years that I delved into the use of acrylic paints. Over time my art took on a surrealistic approach with a philosophical view. I enjoy pushing myself with my art and how I portray my visions, even utilizing colors I wouldn't normally have a tendency to use. I will often take a step back from my work for long periods of time to examine each painting closely before continuing on with it.
I joined the Air Force in 2001, initially I was stationed in Texas and later overseas in Germany. While I was in Germany I spent as much time as I could travelling, enjoying the culture and art that I found there, I was even able to visit the Louvre in Paris and was completely enthralled with the Mona Lisa. When I was twenty-five years old and deployed in Germany for active military service I was diagnosed with Paranoid Schizophrenia, which altered my life forever. I was placed on a medical hold and spent several months at Walter Reid Hospital. I use my disconnection with reality as a way to push past boundaries and limitations that real life can impose and put those thoughts, ideas and images on canvas.
I struggle with communicating with people, I find it difficult and often feel uncomfortable, I find that painting allows me to speak to people on another level, conveying thoughts, ideas, feelings and emotions that I find it difficult to convey otherwise. I make connections in my mind that others don't see or hear and will include them in my work. Most of my inspiration comes from music, I listen to music every day, for long periods of time.
Today I spend the majority of my days listening to music, riding my bike, visiting parks, playing with my cats, painting or drawing and visiting as many Art Galleries as I can to get lost in myself for hours viewing all of the beautiful art to be found there.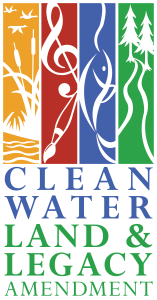 This work is funded in part by a grant from the Arts and Cultural Heritage Fund. The Minnesota Historical and Cultural Grants Program is made possible by the Arts and Cultural Heritage Fund through the vote of Minnesotans on November 4, 2008.