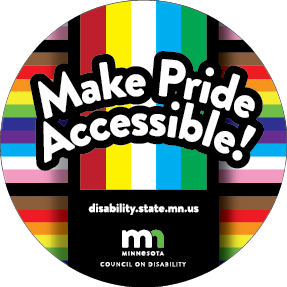 The Minnesota Council on Disability (MCD) is excited to be a part of the Twin Cities Pride Festival this year! We will be at our booth June 23rd through 25th reminding people to "Make Pride Accessible!" Please stop by our booth to grab some buttons and tchotchkes and spread the word that LGBTQ+ people with disabilities exist and have the right to celebrate pride with the rest of the community. Learn how you can help make Pride accessible and inclusive for everyone!
Booth Schedule
Schedule subject to change
Friday, June 23rd
NOTICE: MCD has learned from Twin Cities Pride that there will not be a festival this evening. We will not be hosting a booth today. We apologize for any inconvenience. Join us TOMORROW starting at 10 am.
6:00 to 9:00 pm: Mai Thor, Bush Fellow
Saturday, June 24th
10:00 am to 1:00 pm: ASL service available
10:00 am to 1:00 pm: Bart S Bartholomew, Artist
10:00 am to 2:00 pm: Disability Hub MN
10:00 am to 2:00 pm: Adina Burke, Poet
2:00 to 4:00 pm: ASL service available
4:00 to 7:00 pm: ASL service available
4:00 to 7:00 pm: Wilderness Inquiry
Sunday, June 25th
Treat People Like People materials provided by MN Governor's Council on Developmental Disabilities.
Follow us on Facebook and Twitter for updates to our booth schedule!
Legacy of Pride
The nation celebrates Pride on June 28th to mark the anniversary of the Stonewall Riots in New York City in 1969. The riots were a reaction to police constantly raiding LGBTQ+ spaces like the Stonewall Inn in Greenwich Village. Fifty-four years later, Pride is acelebration of tolerance, acceptance, inclusion, and progress for the LGBTQ+ community.
The 1960s and 1970s were a time of social upheaval. Several marginalized communities began protesting against decades-long systematic discrimination. These communities included:
LGBTQ+
Blacks
Women
People with disabilities
Each civil rights movement inspired and motivated the other. They learned from one another and paved the way for societal acceptance and rights enshrined in law.
Make Pride Accessible
MCD is attending the Twin Cities Pride Festival in this spirit of mutual inspiration and motivation. We want to remind people that full inclusion also includes people with disabilities. While we celebrate the inclusion of the LGBTQ+ community into the larger society, members of that community with disabilities are often forgotten.
Many spaces hosting Pride events are not accessible, particularly for people using mobility devices. Loring Park, the site of the Twin Cities Pride Festival, only recently provided a sensory-friendly space for people with autism. People with various disabilities may find the hilly, grassy terrain difficult to navigate. Multimedia presentations often lack captions and event information may not be digitally accessible.
Inclusivity is a core principle of Pride and the LGBTQ+ movement. Let's work together to remove these barriers to celebration and community and Make Pride Accessible!