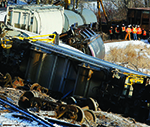 If you live near active railroad tracks, be sure to talk with your local emergency manager about your options in case of a derailment. In some instances, you may need to stay in your home (shelter in place) until you receive an all clear. Find out how an "all clear" notification is given. In other instances, you may be evacuated to a shelter or predesignated safe area. Know your options; information can save lives.
Visit the Minnesota Department of Transportation's website to find out more about community safety and emergency preparedness around crude oil and fuel trains.
Note: This information is also available as a PDF document.