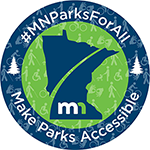 Governor Tim Walz introduced a bonding proposal (PDF) this week that included $19.5 million towards making our state parks accessible for Minnesotans with disabilities. Accessible state parks is an issue that Minnesota Council on Disability adopted in its 2019 Public Policy Agenda and has long worked on. The Council applauds the Governor's office for recognizing this critical need in their proposal and urges the Minnesota Legislature to strongly consider this proposal.
MCD's Access Specialist, Margot Imdieke Cross testified in the House Commerce Committee regarding HF772 to modify our building code around the accessibility of public buildings. The bill passed committee and is moving onto the House Labor Committee.
On Thursday, Public Policy Director Kody Olson provided testimony, regarding HF1358, about the accessibility of our online world:
As buildings need ramps and sidewalks need curb cuts, so too does our digital environment need to be built for all. Our Council has institutional expertise and serves to advise our state government, business owners, and other stakeholders in Minnesota on this very issue.

Let me be clear, the digital realm is no longer a privilege for some–it is a right to all. Title II of the Americans with Disabilities Act mandates that our government and its services be accessible for everyone. Much of government business is conducted digitally. Ranging from snow emergency alerts to informational videos on public health, applying for permits and paying taxes and fines. Accessible government, especially digital government, allows for people with disabilities to live independently in the community of their choice.

Because of our online world, people with disabilities can conduct business anywhere at any time. We have seen a rise in folks with disabilities asserting their civil rights to inclusion in the digital world through legal action. The Department of Justice has ruled against many government entities in this arena–many have been institutions of learning.

The Minnesota Council on Disability strongly supports providing tools and resources to government entities for the full participation of citizens (taxpayers) with disabilities and to reduce legal liability. We urge lawmakers to vote in the affirmative on HF1358.
The Minnesota Council on Disability exists to serve people with disabilities in Minnesota through development of effective policy, training, technical resources and collaborations with public and private stakeholders. Any policy inquires can be directed to Public Policy Director Kody Olson at kody.olson@state.mn.us.