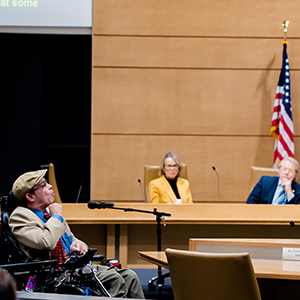 Public policy plays a large role in all our lives. Many Minnesotans with disabilities don't know how they will get around in their community, if their disability will impede employment opportunities, or if they will have the home care support they need. Laws that are shaped at the Capitol in St. Paul have a tremendous state-wide influence on the lives of Minnesotans with disabilities. As the Public Policy Director of the Minnesota Council on Disability (MCD), I am part of an organization that is committed to advancing public policy that supports our community values of inclusion and equity.
There is an opportunity coming up where we can share our goals with legislators at the Capitol. On December 17th, the Minnesota Council on Disability and the Minnesota Consortium for Citizens with Disabilities will be co-hosting the 2021 Legislative Forum on Disability virtually on Zoom from 9 to 11 a.m. Following the MCD Legislative forum will be an afternoon of brown bag breakout sessions covering and discussing COVID-19 and other relative topics affecting the Disability Community during these unprecedented times. This will be an opportunity to inform Senators and Representatives of what we hope to accomplish in the 2021 legislative session. MCD is committed to advancing policies that promote access, equity, and independence so that Minnesotans with disabilities can live, work, participate, and play in the community of their choice.
The Legislative Forum will be a day of dialogue between the Disability Community and those who were elected to represent us at the State Capitol. The Legislators and who will attend are committed to the cause of Disability rights and inclusion and are honored to listen to the ideas and concerns of Minnesotans with Disabilities. This is an excellent opportunity to ensure that the collective voice of the Disability Community is heard by our democratically-elected government.
The Minnesota Council on Disability is working on issues like improving access to specialized healthcare, updating & modernizing disability laws in state statute, protecting access and availability of disability services provided by state agencies, and collaborating with the coalition of disability-related state agencies and non-profits to advance the rights & livelihoods of Minnesotans with disabilities. To make sure legislators understand the importance of this issue, I encourage Minnesotans with disabilities and their allies to participate in the Legislative Forum and voice their support.
Trevor Turner
Public Policy Director
Minnesota Council on Disability
651-350-8642
trevor.turner@state.mn.us