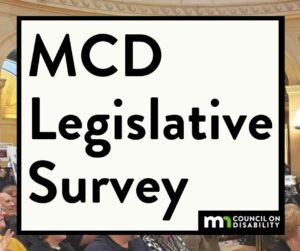 Over the past two months the Minnesota Council on Disability (MCD) surveyed members of the disability community to learn more about the issues that are important to them.
We received 286 responses. Thank you to everyone who took part. The survey asked participants to:
select the issues MCD should work on in the 2023 legislative session.
tell us how these issues affected them as members of the disability community.
Read about the issues MCD should work on in the 2023 legislative session
The results will:
help MCD shape our 2023 public policy agenda.
inform our discussions with legislators about what matters to Minnesotans with disabilities.
How Do Disability Issues Affect You as Members of the Community?
Lack of Community Inclusion
Many of the survey responses had a common theme: a lack of community inclusion. Participants told us they continued to feel excluded from their communities. And they told us about how it remains difficult for people with disabilities to share in areas of this communal life. Barriers to inclusion included:
Inaccessible public accommodations
Unaffordable healthcare
Few transportation options
Confusing social services
Unaffordable accessible housing
As one participant noted,
Community inclusion is the most important thing for us. Transportation, community-based housing, human services, and advocacy skills to leverage those resources is what it takes to make that inclusion happen. – Survey response
Politics contributed to this sense of frustration. Last year's legislature was unable to pass policies that would remove some of these barriers to inclusion and bring people together.
A few sample responses highlight this need for community inclusion.
Access to Public Accommodations
Public accessibility is lacking for sensory needs and means I can't go to a lot of places without stress. Healthcare providers not being understanding of my needs and unaffordable healthcare options means I skip care that I should try to get. – Survey response
Access to Transportation
I am capable of driving now, unknown when does privilege will be no longer be a capability for me. Better more reliable access to transportation. Better more affordable insurance covering more procedures and medical equipment. Affordable housing that is larger than one room living space. – Survey response
Access to Affordable Housing and Social Services
With rising costs of everything, healthcare is hard to afford when you are not working. For me, I am only living off Social Security disability, and that is not much. It would be nice to have affordable housing. Also, make the process with the social services a lot easier. Dealing with social services is like pulling teeth, it is not easy at all. – Survey response