Pillar #1 priorities are led by the Minnesota Council on Disability (MCD) and include:
coalition-building,
advocacy,
bill-drafting,
working with chief authors,
building support in the House and the Senate,
working with the Governor's Office,
advising legislators,
lobbying on behalf of an agency, and
testifying in committee.
1. Minnesota Council on Disability Budget Expansion
MCD's founding statute establishes an extensive list of duties. The finite capacity of the current staff and budget restrains MCD from meeting all the diverse needs of Minnesota disability communities. A budget expansion from $1,038,000 per fiscal year to $2,980,000 per fiscal year would provide adequate funding to increase staff and programming capacity to specialize in complex disability issues.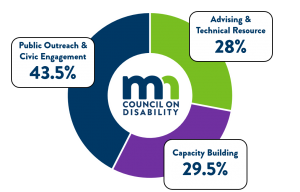 The proposed MCD budget breaks down into these expenses:
43.5% for Public Outreach & Civic Engagement
28% for Advising & Technical Resource
29.5% for Capacity Building
2022 HF 3392 Moller, Hamilton
2022 SF3275 Hoffman, Abeler
2. State Employment & Retention of Employees with Disabilities
Our state government serves Minnesotans with disabilities best when the state workforce includes more of our community. HF2017 & HF1570 seek to:
improve the Connect 700 disability affirmative action program,
provide better oversight over disability workplace accommodations, and
require extensive training on hiring and retaining people with disabilities among supervisors.
With more people with disabilities in state government positions, we will create a pipeline of new state leaders and policymakers who approach disability services from a personal perspective.
2021 HF2017 Reyer
2021 SF1570 Westrom
Full State Employment & Retention of Employees with Disabilities Proposal
3. Collection and Interagency Sharing of Disability Data
Most disability programming and services decisions are made based on existing data. That data is often incomplete and does not represent the full extent of disability in Minnesota. Directing our cabinet agencies to be more proactive in collecting data on a wide range of disability indicators, and fostering interagency collaboration of that data, will lead to more informed policymaking. It will also improve the constituent experience as people navigate state disability services across agencies.
4. Rare Disease Advisory Council
The Rare Disease Advisory Council is looking to be housed in a new organization. It is considering MCD as a candidate. Not all disabilities are rare diseases; however, most rare diseases manifest disabilities. Combining resources and staff capacity will create new opportunities for better advocacy on behalf of people with rare diseases. MCD is an appropriate facilitator because we can work directly with the state legislature and advocate for issues that affect the rare disease community beyond clinical research and medical treatment.