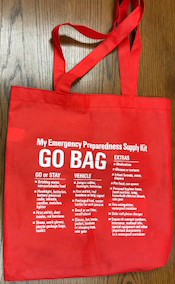 Include the following items in your Go and Stay Bag:
Pandemic-specific
Store a two week supply of water and food.
Periodically check your regular prescription drugs to ensure a continuous supply in your home.
Have any nonprescription drugs and other health supplies on hand, including pain relievers, stomach remedies, cough and cold medicines, fluids with electrolytes, and vitamins.
Get copies and maintain electronic versions of health records from doctors, hospitals, pharmacies and other sources and store them, for personal reference. Get help accessing electronic health records.
Source: Pandemics – Ready.gov
Additional Recommended Items
Copies of important information (PDF), including contact numbers and insurance information (seal documents in a waterproof container)
medical information (PDF), including special equipment information and other important documents (seal documents in a waterproof container)
Bottled water, if possible, 14-30 day supply of non-perishable food, can opener
Eyeglasses, contact lenses and supplies, dentures, hearing aid batteries
Personal identification
Medications
Money (cash, credit cards, checkbook)
Personal hygiene items, hand sanitizer, soap, household chlorine bleach
Solar cell phone charger
Flashlight, extra batteries, battery-powered radio, whistle, candles, waterproof matches, lighter
First aid kit, dust masks, red bandana
Shoes, work gloves, rain gear
Plastic garbage bags, toolkit
For Infants
For Pets and Service Animals
Food, water, can opener, water bowl
Collar with ID tag
Leash or pet carrier
Plastic bags
Vehicle Bag
Jumper cables, flashlight, extra batteries
First aid kit
Red bandana or help signal
Packaged food, water, water bottle for each person
Sand or cat litter, small shovel
Gloves, hat, boots, jacket, blankets or sleeping bags, rain gear
Note: This information is also available as a PDF document.

Page last updated: