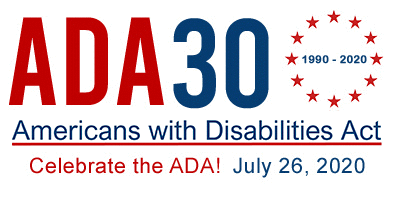 The Minnesota Council on Disability is committed to continuing the conversation on how the Americans with Disabilities Act (ADA) works. We provide training, technical assistance and work with our partners to develop public policy that upholds this landmark civil rights law that leveled the playing field for people with disabilities.
On July 26, 1990 it became illegal to discriminate against people with disabilities in all areas of public life–including employment, education, transportation and access to public places. No longer would people with disabilities be denied the rights and opportunities that many people take for granted.
For more than 30 years the disability community has been challenged to grow, to confront stereotypes, and to stick together and make life better. This year, 2020, brings us to the 30th anniversary of the passing of the ADA. We understand how "celebration" may not be the right mood to promote this year, dealing, as we are, with a pandemic and civil unrest.
Yet, we know how to persevere through struggles, and when we gather in person next July, it will be in a better community–one continuing to work for equality and equity.
A note from the ADA30MN Committee:
Even though we can't gather in person this year, we hope you will join us in acknowledging the remarkable ADA legislation–virtually. Follow ADA 30 Minnesota on Facebook and visit celebrateadamn.com for virtual opportunities throughout the coming year.
Starting today, until the 1st week in August, MCD will highlight some areas of life made more accessible "Thanks to the ADA." We will also celebrate by sharing with you some new and past segments of "Keep Moving Forward."
Here is a description of "Keep Moving Forward" from our partners at AMPERS:
Keep Moving Forward explores what's better and what needs improvement for people with disabilities since the passage of the Americans with Disabilities Act. Together we keep moving toward full access and inclusion in all aspects of life. This project is produced by AMPERS and supported by Minnesota Council on Disability, The Minnesota Humanities Center, the National Endowment of the Humanities and the Minnesota Arts & Cultural Heritage Fund.
With "Keep Moving Forward," MCD continues to share stories and experiences, to remind our community how much we have overcome, and to encourage us all to Keep Moving Forward.
A Message from Governor Tim Walz
Video will autoplay: Governor Walz ADA Anniversary Message
ADA 30th Anniversary Proclamation (PDF)
Thanks to the ADA