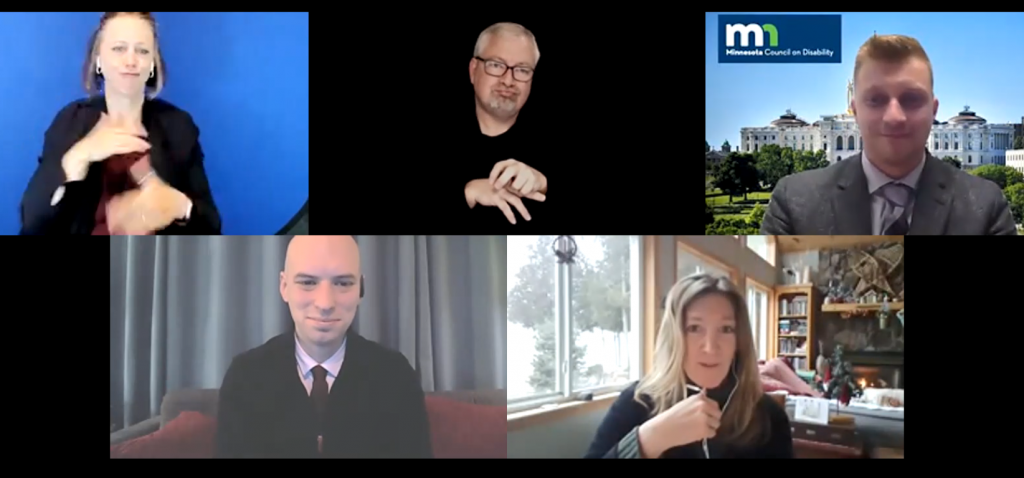 SAVE THE DATE: Wednesday, June 2nd, 2021 from 12 to 2 pm MCD Post-Session Legislative Forum
The Minnesota Council on Disability (MCD) invites you to join us for our virtual Post-Session Legislative Forum. Join us for an opportunity to learn about new bills and policies passed during the 2021 Legislative Session that affect the disability community.
We will present the progress on our Public Policy Priorities and hear from lawmakers and government leaders how they prioritized the disability community this year.
There will also be an opportunity for you to present your comments and ideas about what issues we should prioritize in the upcoming year. If you would like to submit or present an idea for our Public Policy Priorities, please contact Public Policy Director Trevor Turner at trevor.turner@state.mn.us or call at 651-350-8642.
We will post event information, including how to watch, on this page and on Facebook later this month.
Deaf interpretation and CART captioning services will be provided. If you have any other accommodation requests, please email Trevor Turner at
trevor.turner@state.mn.us
or call 651-350-8642.