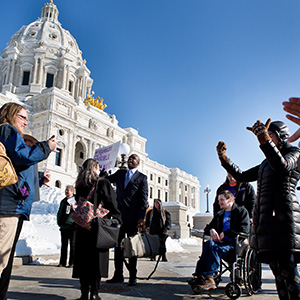 This year Disability Advocacy Day will look different, given the COVID-19 pandemic. Even though we can't go to the Capitol, it is still critical for us to advocate for human and civil rights, self-advocacy and self-direction, equity and belonging, and disability and racial justice!
That's why the disability community will participate in Disability Advocacy Day "Off the Hill" virtually on Tuesday, February 23, 2021!
Agenda
Here is a high-level agenda for the day:
All Day: Meet with your Representatives and Senators virtually, any time.
11:00 to 11:45 am: Rally! Leaders in the disability community will share stories and information about important policy issues.
11:45 to 12:00 pm: Break.
12:00 to 1:30 pm: Lunch & Learn! In-depth discussion of issues not featured during the rally.
You will need to register in advance.
After your register, you will get a confirmation email. Save the confirmation email; it will have information that you will need to join the meeting.
If you have questions or need more information, contact The Arc Minnesota's Legislative Advocacy Intern, Evelyn Humphrey, at legisadvocacy@arcminnesota.org.
For more information, follow the Facebook Event.